Fans, Romans, Countrymen: Lend me your ears!  I went on a mini tour of the west coast that I want to tell you about.  It all began in sunny San Francisco at El Rio on June 18 at the Deep Lez Potluck.  Wow, what a perfect send off for the tour.  I got to see a million friends, old and new, from all over the place.  All of the performers were fantastic, it was an awesome evening.  And one of my songs from this show is even up on YouTube.  So, if you're curious, check out The Reluctant Butch. Thank you, Hannah Guggenheim.  The next night saw me performing at a delightful house party in Oakland.  Thank you Darby.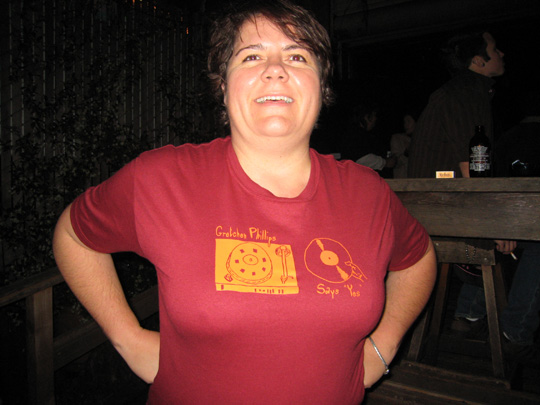 And the day after that saw me taping my solo show for Portland's public access television.  Thank you, Sutree.  You know, that's how Meat Joy went about conquering Austin.  We had a show on public access that played at all hours of the night and gained a lot of exposure from insomniacs that way.  I'm counting on something similar happening to me in Portland. Then I did a sweet gig at In Other Words, the women's bookstore.  Portland is a very cool town.  Lots of biking, lots of art, very delicious food and cocktails, smart people.  What's not to love?  I got to stay with my beloved former roadie from Two Nice Girls, Tex Clark.  Although I still insist on calling her Alison, because that's the name I met her with.  Anyway, I saw tons of pals from Michigan and beyond and did a final kick- ass show at Mississippi Pizza.
The next day, I drove to Olympia with Jones and Meadow.  We got there early and spent a great deal of time getting pedicures.  I'd never had one.  Once you get over the noxious smell in the salon, the smell that you just know is going to result in cancer some day, it's alright.  I even still have the polish on there and it's been over a month.  I'm very thankful that I got to learn new things while on tour.  Oh yeah, and I also figured out a self-counseling technique for when I'm feeling bad.  I just ask myself, "How bad is this very moment really, Gretchen?"  And it never is actually killing me.  And then I'm brought back to reality, away from my anxiety.  I also figured out on this tour that I really want to study furniture making.  I love working with wood and I want to do it even more.  I also decided to visit the west coast about every six months or so, so they don't forget me there.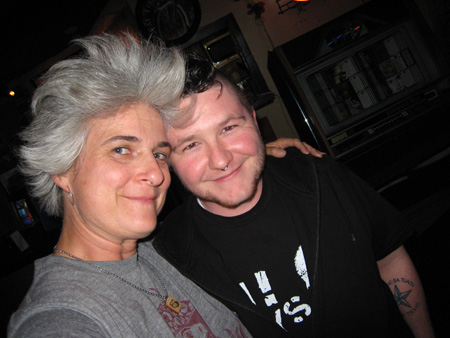 So, my gig in Olympia at Jakes on 4th was fantastic.  Thank you, Alex Awesome and Scream Club for everything.  And a big shout out to that sweet owner, too.  I think I remember that his name is Rob and what a great guy.  Jake's on 4th is a great example of a neighborhood gay bar.  All types of people were in there, fags and dykes and their straight fans.  It's a really gorgeous space with a very inspiring stage.  There are the recipes for the various Red Bull and vodka drinks posted in the bathroom stalls.  I ate aton of fried bar food at the end of the night.  It was a great mixed crowd and I can not wait to go back.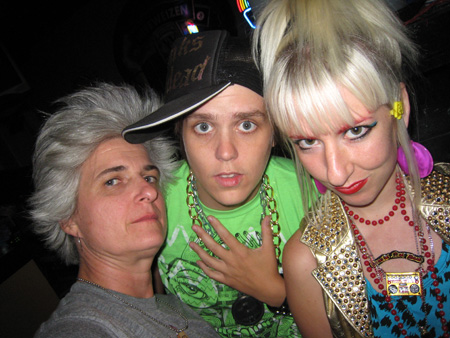 Oh, also, Olympia has a women's softball team called 13 Nice Girls.  But really the team has 15 players on it.  And some of them came to my gig.  I asked them if they have fun.  They said, "We have fun and we also win."  Apparently they're like the champs or something.  That is just so cool.  I begged them for a jersey or a t-shirt or something.  I really hope that one does show up in the mail.  I was flattered beyond belief.
So, that was my mini tour.  I flew Southwest airlines, where they don't charge for checked bags.  I made everything fit in my suitcases, including my amp.  I wore the same hot suit every night.  Hot in both ways.  And I got to see my pals and I think I made some new fans.  Success!!!!!  Lessons Learned!!!!!! Ooooooh, it feels so good.
So tomorrow I'm going to be digitalizing a bunch of old stuff to put up on YouTube.  Might as well utilize it while it's still free.  So keep your eyes open for some vids up on that site.
Have a great summer.