How about some new news?  What has been going on over here?  Well, tons of stuff, actually.  Due to technical malfunctions I wasn't able to update this site for awhile, so I have quite a backlog of info to share with the people of the web.  Ummm, after I went to Chicago and New York City I went to Fabulosa Fest in Guerneville, CA for birthday weekend. That was a whole lot of fun.  I played a short but sweet set and got to see a bunch of friends.  Then Ann and I headed off to Michigan where we had a whole 'nother blast.  What a year this was.  Best one yet.  So much great music.  So many fun people.
Is it a good idea to put up a photo where I look that geeky?  The answer is "yes" if the geekiness is due to my vicinity to Leslie Hall.  Where I'm in one of her costumes.  Because I just performed with her, malfunctioning costume and all.  Yes.  It was as awsome as you could imagine.
Say, do you like Amy Ray?  Do you like Sia?  Do you like Patrice Pike?  I ask because I performed with them, too.  Take my word for it, this Michigan it was very good to be Gretchen Phillips.
Then, it was time to return to Austin and start school.  You know, I never went to college.  I just formed successful bands right out of high school and didn't take the time out to continue my institutional studies.  I'm more of an autodidact.  But the last couple of years have found me really hankering to learn woodworking, specifically as applied to furniture making.  So I've been going to the community college and studying up.  I love it.  This semester I'm in two classes: Welding Using Multiple Processes and Intermediate Woodworking.  Both are fantastic.  Thus far I am terrible at welding and being terrible at stuff is actually pretty great for me.  There's so much to learn inside of not being proficient yet.  I don't want to just do stuff I'm good at for the rest of my life.  I want to learn new things, too.  And apparently I'm not instantly great at welding just because I want to be.  There's a learning curve and I'm in the middle of it.  But I'm really enjoying it.  It's humbling.  I probably need that.
I also got a day job, which is not something that I often do.  I'm enjoying this one so much more than most of my day jobs.  I work at my favorite furniture store in Austin,IF+D.  And I'm also about to begin an apprenticeship at my favorite woodworking shop.  But I don't want to potentially jinx it by giving too much away before I start, so I'll just leave it at that.  Oh, and I'll show you a picture of something that I've made already: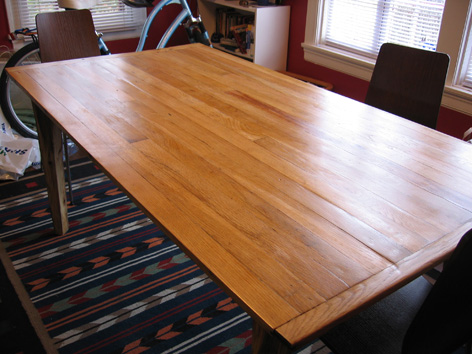 I worked on the table with my buddy, Thor.  He's in Shearwater.  We're also in A Joy Division Cover Band together.  He knows alot about a whole lot of things.  So, I modeled this table after one I saw in New Zealand.  The top is recycled oak flooring and the apron and legs are oak, mesquite, cedar and maple.  Ann and I eat on this table all of the time.  I have lots of designs in my head that I want to produce once I gain the skills and access to tools.  Making stuff is fun.  And I'm also in the midst of editing the Manlove show in order to send it out to various performance spaces. I very much look forward to presenting this show again.  Somewhere other than Austin.  And I'm also in the beginning stages of creating my publishing empire.  Stay tuned.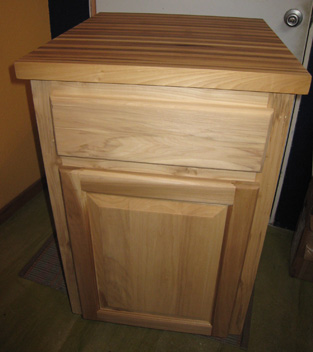 The other big news is that I feel fully recovered from my hysterectomy and am working out a lot and feeling better than I have in years.  I like to bike, do yoga and Pilates and not drink beer all of the time.  Who knew?