Lord Douglas Phillips – A Taste of LDP
????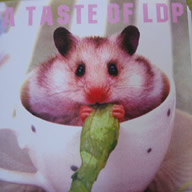 Lord Douglas Phillips is:
Terri Lord on drums and vocals
Darcee Douglas on bass, keyboards and vocals
Gretchen Phillips on guitars and vocals
Recorded at Shabby Road by Terri Lord
Produced and Mixed by Lord Douglas Phillips
Art by MadeYouLook
A wonderful, rather short-lived trio that rocked. Terri Lord is a powerhouse drummer who has been playing in great Austin bands since the early 80′s. Darcee Douglas was a constant on our music scene for many years. There were times when Darcee was in seven bands at once. Plus we'd all spent quality time in Girls In The Nose. It just made sense for us to come together eventually, and so we did. This ep is a tiny taste of our repertoire.