Meat Joy
1984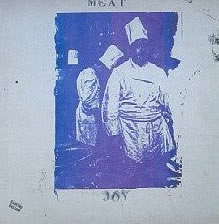 SIDE 1:
Prelude in C-flat  (The Storm)
Another Pair
Brothers & Sisters
Call Black
My Heart Crawls Off
Proud To Be Stupid
Caleb in the Tub
Pleasure Time
Slenderella
The Last Round Up
SIDE 2:
Matthew 10:36
Godpleaser
I'm Sorry But I Do
For When Love Is Irrelevance
Ich Bin Nur Ein Shauspieler
Final Curtain
Produced by Meat Joy and H. Bryce parker, III (RIP) Recorded at ESR studio, Austin, TX in 1984
Meat Joy: Gretchen Phillips, Jamie Spidle, Mellissa Cobb, John Perkins, & Tim Mateer
Meat Joy resulted from the co-mingling of two bands, Suffer Jets(all-girl) and Twee Twee (all-boy and that's not really their name, it was just a whistling sound that can't really be written). Initially a nine-piece or so, it was eventually whittled down to a core group of five. Improvisation, discourse about sexual politics, a rudimentary grasp of instruments and equipment, and lots of fun were always present, Every single show always began with some sort of improv and frequently incorporated props, film, garbage bags, sheets and freaky lighting. Oftentimes the entire audience would move outside the venue for an acoustic sing-along and percussion instruments and drumsticks were always handed out at some point for even more audience participation. We weren't happy with the divide between performers and audience and did all we could think of to merge the two.
The one Meat Joy album contains only a small fraction of the songs from our set, with many great classics unfortunately omitted due the constraints of money and how much music albums can hold. Each member was allotted three minutes to contribute whatever they wanted of their own. We held many parties for decorating album covers because of our ongoing comittment to audience participation and our inability to decide on a single design to represent us. Each of the 1500 covers were hand-made. This led to much confusion over it's title, since people titled it whatever they wanted. I once bought two copies at a used record store in Kansas City that were unopened but priced differently. I asked why. "Because it's two different albums" the salesman contemptuously replied. I really love this record.
writing credits: #2, 6 & 11 credited to Meat Joy outright; #1 improvised by Meat Joy; #3 by MJ & Caleb & Genevieve Phillips; #4 by MJ & southpaw Slim & Frog Boy Fitch; #5 Gretchen Phillips & Sara Hickman; #7 by Caleb & Mark Curtis; #8 improvised by MJ & Teresa Nervosa & Loren Order & Fitch; #9 by MJ & Amy Righter; #10 by MJ & Shelley & Ben Dover; #12 by MJ & Teresa Nervosa; #13 by Genevieve PHillips; #14 by MJ & Fitch & Jean Jordan & Geoff Cordner; #15 by MJ & Red Mole (Deb, Alan, Sally), & C.K. & Stuart & others & Rodney Rhythm & Steve Suicide & the H Crew; #16 by MJ & Caleb