Phillips & Driver – Togetherness
2003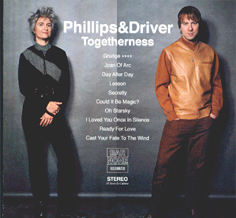 Running the gamut from Bad Company to Badfinger
I've been having a love affair with New York City since 1999. I refer to her as my mistress and Austin as my wife. Sometimes this wreaks a little havoc, but it's so worth it. In NYC I have a musical partner named Dave Driver. I'd long thought that the next frontier of queer music was for dykes and fags to play together, and I finally found my gay guy. Dave and I released an album in the vein of those Linda Ronstadt records of the 70′s. The ones where she would sing a little Elvis Costello, then some Buddy Holly followed by Karla Bonoff. We refer to this as a "queer take on the canon."
Grudge ****
The Scud Mountain Boys, one of Phillips&Driver's all-time favorite bands, wrote this sublime homage to the pathetic loser in all of us.
Joan Of Arc
The beginning of it all: Gretchen Phillips learned this gorgeous Leonard Cohen tune, which sums up the struggle between ambition and relinquishing control, from her father as a child. Later she taught it to Dave Driver, and it was the first tune on which they dueted.
Day After Day
Badfinger's classic 70′s radio staple has here been re-envisioned as the ultimate anthem of platonic love.
Lesson
A Gretchen Phillips original about the end of nihilism that comes when one truly begins to care. What could be more painful?
Secretly
Jimmie Rodgers wrote this ballad of forbidden love sometime in the 1950′s. What was the forbidden part back then? Who knows. But when David Driver heard it on his favorite easy listening radio station, WNLC ("The Memory Station") out of Pawtucket, Rhode Island, he felt as though he had written it himself. Why indeed?
Could It Be Magic?
Seeing Barry Manilow perform this song solo on "The Midnight Special" was a pivotal moment in Gretchen Phillips' adolescence. For the first time she understood that "schlock" could have deep personal meaning for the singer and his audience. And her career has been a testament to this realization ever since.
Oh Starsky
The television series "Starsky & Hutch" was seminal for David Driver. It taught him the importance of honesty in man-to-man love. He considers Paul Michael Glaser, who portrayed detective Dave Starsky, one of his first true loves. This song was written for him.
I Loved You Once In Silence
From the Lerner & Leowe musical Camelot, a perfect song about forbidden love (a perhaps all-too-familiar theme). Originally sung by Gretchen Phillips' childhood fantasy lady Julie Andrews, no less.
Ready For Love
How can one make an early 21st-century lesbo-gay 70s-soft-rock country-folk album and not include this too-often overlooked gem of sexual longing? One cannot. Plus which, Badfinger's work is represented on this album, therefore Bad Company's must be as well.
Cast Your Fate To The Wind
Vince Guaraldi, who wrote the now-classic "Peanuts" theme, had a huge hit with an instrumental version of this in the early 60′s. When David Driver heard a version with words by one of his favorite singers, June Christy, he jumped at the chance to record it.